Issued at 10:54 am WST on Monday 25 March 2019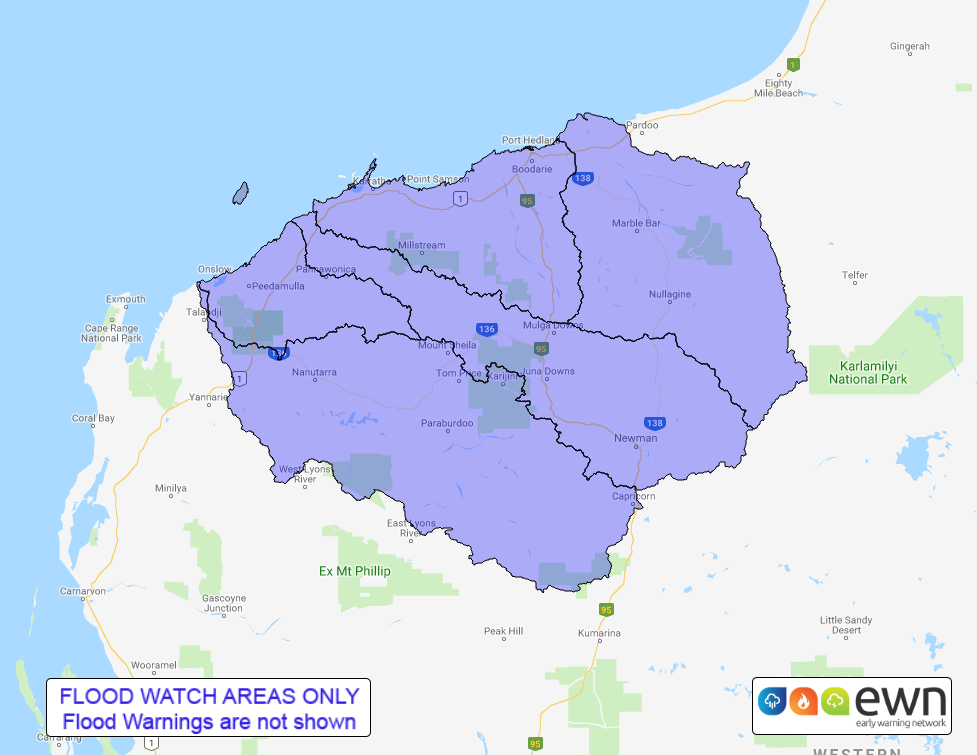 Flood Watch Number: 7
Widespread heavy rain associated with Severe Tropical Cyclone Veronica is now causing significant flooding in some catchments within the Pilbara Coast Rivers catchments.
Specific Flood Warnings are current for the Pilbara Coastal Rivers and the De Grey catchments.
Heavy rainfall is expected for the remainder of Monday into Tuesday in areas bounded by Cape Preston to Wittenoom to Marble Bar to Pardoo. Rainfall totals for the 24 hours to 9am Tuesday of 100 mm to 200 mm possible close to the coastal areas and 30mm to 100mm further inland.
Rainfall to date with forecast rainfall in the affected catchments is expected to result in river rises, extensive areas of flooding and may adversely affect road conditions. Some roads may become impassable and some communities may become isolated.
Catchments likely to be affected include:Fortescue River
This flood watch is available by dialling 1300 659 213. For more information on the Flood Watch Service visit http://www.bom.gov.au/water/floods/floodWarningServices.shtml
Flood Safety Advice:
DFES advises people and communities to be aware that flooding is possible and be prepared to relocate equipment and livestock. Watch water levels. Travellers need to be aware that road conditions may be adversely affected and travel plans may need to be reconsidered. Do not drive into water of unknown depth and velocity.
Community information is available from DFES at www.dfes.wa.gov.au
Current river levels are available from Department of Water and Environmental Regulation at www.water.wa.gov.au
Next Issue:
The next Flood Watch will be issued by 11:00 am WST on Tuesday 26 March 2019.